Competitions are important for students, fostering skills and resilience. STEM contests, in particular, are transformative, fueling passion and teaching life skills like problem-solving and teamwork.
One such competition is Codeavour 5.0, the pinnacle of robotics and coding competitions. It's not just a competition; it's a launchpad for young minds, empowering them to delve into AI, robotics, and coding. Here, education meets innovation and fun, propelling students toward a brighter, tech-driven future.
Continue reading this blog to explore the impact of Codeavour, discover exciting updates, be inspired by impressive projects, and find out how you can become part of this thrilling tech fest.
AI, Coding and Robotics Innovation Fest for the Next-Gen
Codeavour 5.0 International stands as the grand stage for the largest AI, Coding, and Robotics Competition, brought to life by STEMpedia every year. Here, participants craft innovative projects using PictoBlox, all with the noble goal of making the world a better place. Students are invited to delve into the captivating realms of AI, AR-VR, Coding, and Robotics.
The registrations are open for Codeavour 5.0 International! So, Register Now and get on the exciting journey of learning, coding, and creating solutions for real-world challenges.
The students embark on a journey of discovery through enriching training sessions, workshops, interactive activities, and problem-solving sessions. This experience not only nurtures their critical thinking but also ignites their creativity, fosters collaboration, and hones their communication skills—the essential 21st-century tools for success.
Spreading Innovation: Codeavour's Worldwide Impact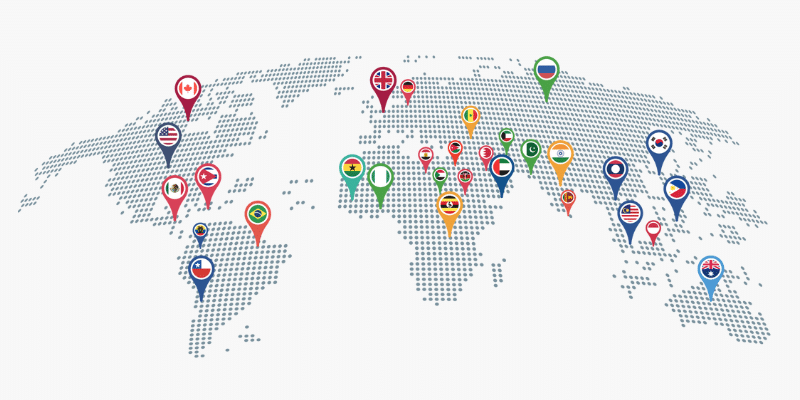 Codeavour's journey began humbly in 2019, focused on the UN Sustainable Development Goals (SDGs), inspiring impactful projects. By 2020, it had grown tenfold, promoting innovation through AI and coding. In 2021, it saw a 14x participant increase, fostering innovation in environmental protection, health, and automation. Then, in 2022, it broke all records with 230x growth in four years. It established itself as a premier international AI, coding, and robotics competition for school students, nurturing student innovation and passion for coding and robotics.
In 2022, the support and involvement of our esteemed partners like Amazon Web Services (AWS), Motwani Jadeja Foundation (MJF), Atal Innovation Mission (AIM), and AI & Robotics Technology Park (ARTPARK) played a crucial role in making the International AI, Coding and Robotics competition a resounding success, with over 114,000 teams of students from 70 countries participating.
Codeavour 5.0 International Launch Ceremony
Codeavour 5.0 International had its grand launch on 27th October unfolding the amazing opportunities for students to showcase their talent using the latest technology.
The launch witnessed the presence of top industry experts like Mr. Ramanan Ramanathan (FIRST ATL Mission Director), Mr. Vikrant Goyal (Co-Founder Inventant Education), Prof. Teemu Leinonen (Associate Professor, Aalto University, Helsinki, Finland), and Dr. Ishha Farha Quraishy (Founder CEO, IFQ Technologies, UAE, Mrs. Universe Solidarity 2019), Mr. Patrick Kenny (Award winning STEM Educator, strategic and operational expertise to a global STEM education, Ireland, United Kingdom), Mr. Dhrupal Shah (CEO and Co-Founder STEMpedia).
Mr. Ramanan Ramanathan said, "At every local level, we need initiatives like Codeavour to amplify and multiply the many forward. When tinkering becomes the order of the day and access to tools and technologies, pedagogies, and new methodologies becomes accessible to them, they blossom to their full potential.
Mr. Vikrant Goyal, the co-founder of Inventant Education, said As we stand here, everyone, all of us, at the dawn of a new era in education, I would say the world is undergoing a very critical digital transformation. The skills that are required for the jobs of the future are changing rapidly. And in education, we are focusing on STEM because we believe that coding and AI are at the forefront of this transformation.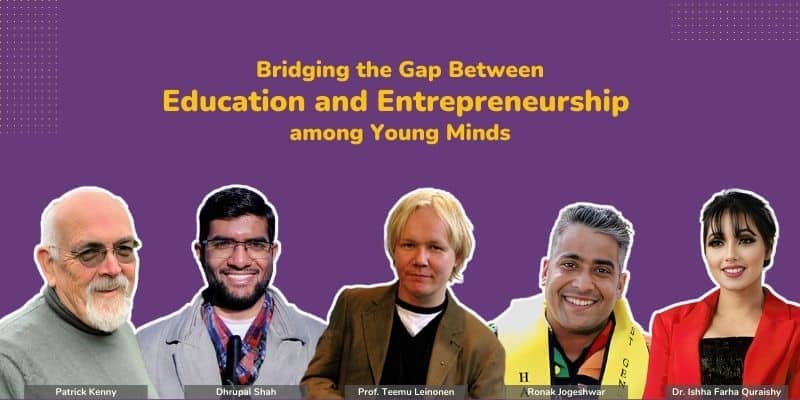 The panel had an invigorating discussion on the topic "Bridging the Gap Between Education and Entrepreneurship among Young Minds" where they shared thought-provoking insights on the topic.
In the panel discussion, Dr. Ishha Farah Quraishy (CEO and founder of IFQ Technologies, Mrs. Universe 2019 Solidarity) said that a collaborative platform like Codeavour can take education to another level, and Professor Teemu Leinonen from Aalto University Finland added that people should be empowered to use this kind of ability to do things themselves. So that brings us to the steam as well, experimenting, tinkering, and trying out. So it's almost like not only that you can do something useful, but just doing the thing is educational.
The ceremony moved forward with the unveiling of two new tracks for the 5th edition of Codeavour and prizes that inspire participants to work for the betterment of society.
Codeavour 5.0 with Prizes and Fellowships Worth $45,000+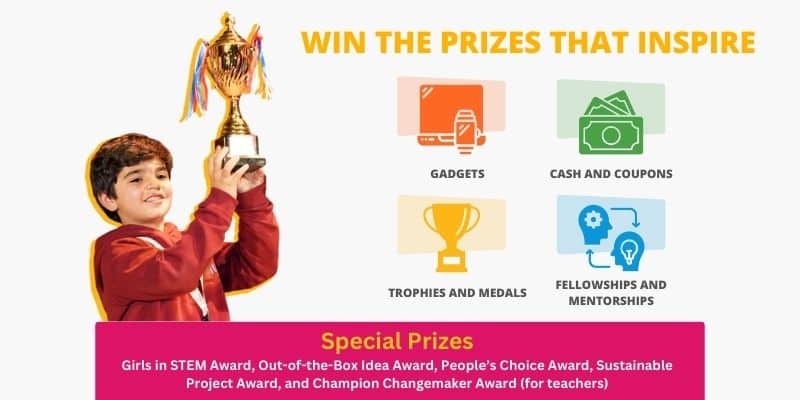 The 5th edition of Codeavour is here, and it's bigger than ever! We have 100 amazing prizes and fellowship up for grabs, totaling over $45,000. And the best part? There are awesome giveaways like Tablets, Laptops, Smartwatches, and many more.
But the fun doesn't stop there. We have a unique Livelihood Award to celebrate our young genius minds. And hey, girl coders, this is your time to shine with the Girls in STEM Award and show the world your talent! Teachers and mentors, we still remember you.
Stand a chance to win titles like the Champion and Changemaker Award. We also have awards for the most creative (Out-of-the-Box ideas), the People's Choice, and the Sustainable Project Award.

The International Rajeev Motwani Fellowship for School Students
The Rajeev Motwani Fellowship Program is a remarkable initiative aligned with Codeavour 5.0 International. It aims to uplift students by offering a platform for skill enhancement, mentorship, and showcasing their innovations. Drawing inspiration from the RC fellowship, it is designed to launch students into a domain of endless opportunities through engagement with the Motwani Jadeja Foundation (MJF). By backing innovation, creativity, and personal growth, the program aspires to cultivate the upcoming generation of influential leaders, ensuring they are well-equipped to tackle demanding societal challenges.
The Rajeev Motwani Fellowship Program is designed to create, mentor, and empower young innovators. "RCF represents a dynamic community of entrepreneurs united by a shared set of activities, vision, philosophy, and aspirations that continue to evolve."
The top 20 students from the Senior Group aged 15+ along with their mentors in the Codeavour 5.0 International Showdown taking place in Dubai will get the opportunity to win a trip to Mexico to attend an Innovation Conference! The Innovation Conference will give them an amazing chance to meet and learn from industry experts and network with like-minded people.
The program also helps students learn about different countries, their challenges, and how they can make the world a better place, just like the Sustainable Development Goals (SDGs) set by the United Nations. 
New Themes and Tracks at Codeavour 5.0 International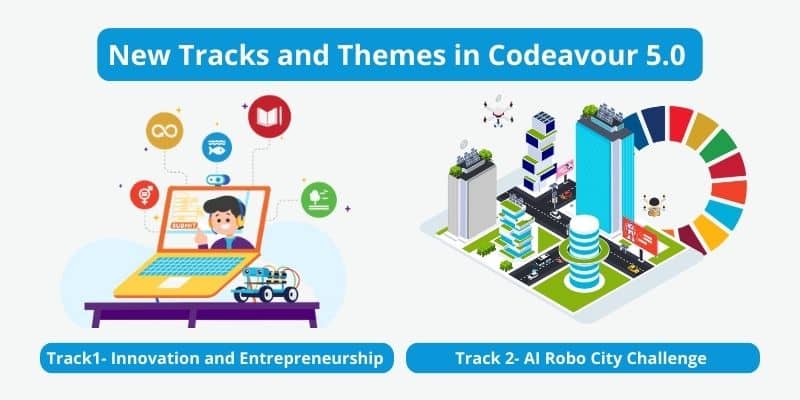 The Codeavour 5.0 International is centered around unique tracks and themes. Participants are categorized by age: Elementary (7-10 Years), Junior (11-14 Years), and Senior (15-18 Years). Each team should have 2 or 3 members and one guiding mentor. There are two main tracks:
This track focuses on transforming young innovators into tomorrow's entrepreneurs, emphasizing the UN's Sustainable Development Goals for students aged 7-18. The track will have the following five themes:
Save the Environment

Strengthen the Health Infrastructure

Revolutionize the Agriculture

Educate the World

Automate the Surroundings
Projects must be programmed using PictoBlox, an advanced AI and coding software. Whether using hardware compatible with PictoBlox, like Quarky, evive, micro:bit, and others or focusing solely on PictoBlox-based projects, all are welcome to compete and shine.
How to Participate in Track 1?
Register: -Registrations begin on October 27, 2023
Learn: Gather knowledge using the guided video, learning content, AI, AR-VR, and Robotics Workshops and get ready!
Create: Turn your ideas into amazing projects
Compete:  Show your skills and aim for the top!
For those looking to merge technology with real-world solutions, this track is your arena! The AI Robo City Challenge is a dynamic, hands-on robotics competition where participants employ Quarky to tackle challenges echoing the UN's Sustainable Development Goals. There are 11 tasks to conquer within a set timeframe. For optimal results, enhance your robot's speed to transport components swiftly and activate specific arena zones. Get set, dive in, foster creativity and teamwork, and harness vital 21st-century skills.
How to Participate in Track 2?
Register: Registrations begin on October 27, 2023
Learn: Gather knowledge using the guided video, learning content, AI, AR-VR, and robotics workshops, and get ready!
Build Your Quarky: Assemble your Quarky and set the stage for innovation.
Compete: Show your skills and aim for the top!
Join Hands for Codeavour 5.0 International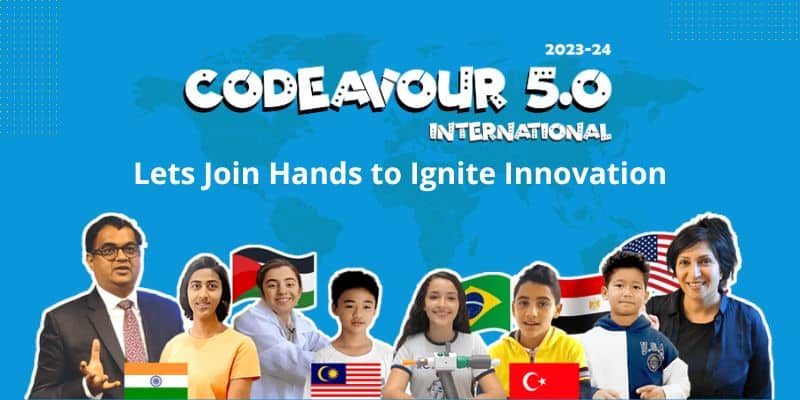 If you're passionate about STEM education, whether you're an educator, school, STEM training center, or STEM consultant, we welcome you to be part of Codeavour. Explore roles like Sponsor, Ambassador, Country Partner, Academic Partner, Training Partner, or Community Partner and gain recognition for your valuable involvement.
Associate Nationally: Bring Codeavour to Your Country.
Sponsor Our Vision: Drive Positive Change for the Next Generation.
Foster Innovation in Your School: Partner with Us as our Academic Partner
Moreover, we're excited to award a total of 100+ prizes and fellowships worth $45,000 to students who showcase their exceptional performance.
So, are you as excited as we are? Let's make Codeavour 5.0 the most epic international innovation fest ever.
In a Nutshell
This time, Codeavour is more than a competition; it's a catalyst for innovation and transformation. With its global impact, alignment with UNSDGs' goals, and cutting-edge tracks, it empowers the next generation of problem-solvers. Whether you're a student, educator, or organization, join us in this journey to shape a brighter, tech-driven future. Together, we can ignite innovation and inspire positive change. Let's champion the future with Codeavour 5.0 International!